Brian Bogers
Brian joins Team HRC in the MXGP category for the 2018 season, where he'll be riding the Honda CRF450RW. The Dutchman joins from the HSF Motorsport team.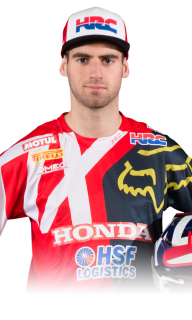 Background
Brian Bogers was born and raised in Eindhoven, a city located in the southern part of the Netherlands close to the border with Belgium. His father was a professional motocross rider until the time Brian was born: he never quit being a fan of the sport however, and that passion was transferred into the young Brian, who started riding motocross bikes at the age of five.
He started racing soon afterwards but he quickly became too big for 50cc machinery, meaning he moved to the bigger 65cc bikes not long after turning six years old. This early transition turned out to not be an easy one for Bogers, but with continuing help and support from his father he eventually managed to master the category and become Dutch champion the following year.
Things were looking up for Bogers, who became 85cc Dutch Champion (small wheels) and then two years later European Champion (big wheels). In 2011 he made the switch to 250cc machinery and narrowly missed on the European championship title in 2014.
After three years in MX2, Bogers will now tackle his debut MXGP season with Team HRC.
Career Information
| | |
| --- | --- |
| 2010 | 85cc European Champion |
| 2012 | EMX250 European Championship 4th |
| 2014 | EMX250 European Championship 2nd (tied in points with Champion) |
| 2015 | FIM MX2 World Championship 11th |
| 2016 | FIM MX2 World Championship 6th |
| 2017 | FIM MX2 World Championship 8th |
Rider Statistics
| | |
| --- | --- |
| Date of Birth | 19th September 1996 |
| Birthplace | Eindhoven, the Netherlands |
| Racing number | 5 |