Born on the 13th of November 1987, Evgeny Bobryshev's first bike was given to him when he was seven as a present from his father. He learnt to ride outside his house before moving to the small track his father created in a nearby field. "Bobby" competed on the road for a short time, winning the 125cc Russian Championship in 2004, before making the move back to motocross in 2005, where he competed in European MX2, moving to MX1 in 2010.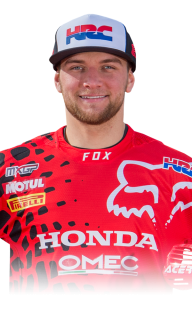 Background
Alongside riding in the European Championship, Bobby supplemented his riding time by competing in the Russian MX2 Championship. 2007 saw him become Russian MX2 Champion, which precipitated his move to the MX2 World Championship.
Bobby's debut year in the 2008 MX2 World Championship was a good one with points scored in most events entered; particular GP highlights were in Spain and Benelux (where he came 10th and 8th respectively).
Steady improvement was seen in 2009 with 8th overall in Latvia and 9th overall in Sweden. Not one to sit back and relax, Bobby also competed in the Dutch MX2 Championship where he finished 2nd in the rider standings at the end of the year.
Bobby's height and build are more suited to riding MX1, which was seen when he made the move over to the premier class with the CAS Honda team for the 2010 season; there were top ten finishes in most events and a third placed race finish in Latvia. This year also saw him win the British MX1 Championship.
2011 saw Bobryshev riding a Honda again but this time for the Honda World Motocross team. Bobby's first overall podium in MX1 came at the third round in the USA and was followed with five more, including a dominant GP win in Germany. Bobby was hampered by injury towards the end of the season but the Russian powerhouse always managed to work through them; without the injury he would have been in contention for 2nd or 3rd in the rider standings.
2012 didn't start how Bobby would have wanted with a bad crash in free practice of the first round in the Netherlands, injuring his hand. Although he still managed to be within the top ten, some of his performance was affected by this injury for a couple of rounds. A series of bad starts plagued him mid-season but Bobby was able to power his way through the pack to make up for those positions lost.
2013 and 2014 have been unlucky seasons for Bobryshev with injuries taking him out of Championship contention. The potential was there despite this; podium finishes in three of the last four rounds of 2013 and taking the Dutch MX1 Championship the same year.
2015 was a stellar year for the big Russian, who came back from injury to enjoy his best season in MXGP with Team HRC, achieving four podiums and two qualifying race wins to finish third overall.
Bobby remains in red in 2017 for his eighth season on Honda machinery.
Career Information
| | |
| --- | --- |
| Grand Prix Debut | 2005 |
| First Grand Prix Win | 2011 GP of Germany, Teutschenthal |
| Total Grand Prix Wins | 1 |
| First Grand Prix Podium | 2011 GP of USA, Glen Helen |
| Total Grand Prix Podiums | 14 |
| 2008 | 24th MX2 World Championship (Yamaha) |
| 2009 | 20th MX2 World Championship (Yamaha) |
| 2010 | 10th MX1 World Championship (Honda). British MX Champion (Honda) |
| 2011 | 4th MX1 World Championship (Honda) |
| 2012 | 9th MX1 World Championship (Honda) |
| 2013 | 8th MX1 World Championship (Honda). Dutch MX Champion (Honda) |
| 2014 | 14th MXGP World Championship (Honda) |
| 2015 | 3rd MXGP World Championship (Honda) |
| 2016 | 5th MXGP World Championship (Honda) |
Rider Statistics
| | |
| --- | --- |
| Date of Birth | 13th November 1987 |
| Birthplace | Kondrovo, Russia |
| Racing Number | 777 |
| Hobbies | MTB and Skiing |