Tim Gajser
Since the end of 2013 when 'Tiga 243' was picked up by Honda and Giacomo Gariboldi's eponymous outfit, the rise of Gajser has been meteoric. His flamboyant style mixed with his otherworldly ability to scrub has won him fans and fame across the world as well as a string of European and World Championships, becoming Honda's first back-to-back World Champion in the MXGP era at just 19 years old, and then being crowned World MXGP champion once again in 2019 when he broke numerous records on his way to a third world title. He continued breaking records in 2020 as he won his fourth world title for Honda, also moving clear at the top of the GP overall wins list for Honda with 29 victories. He added four more victories in 2021, but he wasn't able to add to his title count, and will head into 2022 looking to once again be crowned MXGP champion.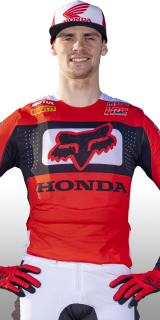 Background
Just twelve days after he turned 19 years of age, Tim Gajser realised a dream when he clinched his first MX2 World Championship crown in 2015. Tiga243 was clearly an enormous talent, working his way through the championship classes leaving a wake of European and World titles, but this MX2 title was special. Just two years after the family were facing the prospect of having to stop, here was Honda's first small-capacity world title in 20 years.
Gajser and Honda continued to blaze a trail, shocking many in the motocross world by announcing that the young Slovenian would immediately move to the MXGP class in 2016. Many doubted, but Honda and Tiga243 believed.
In what was a season of records, and remarkably less than a year on from his MX2 title, Gajser did it again and took the MXGP World Championship crown, in his rookie year and in dominant fashion. Whereas he clinched the MX2 title in the last round of the season, before his 19th year was run Gajser sealed the MXGP crown with three motos remaining in the season, underlying the powerhouse he was riding in his maiden season aboard the Honda CRF450R. It was a similar story for Gajser in 2019 and 2020, at the #243 took the titles despite the much-changed calendar disrupted by the COVID-19 pandemic, the new one-day format and the three races in a week.
The new format continued into 2021, but unfortunately Gajser's title-winning streak ended after one of the most intense titles battles in recent history. Despite holding the red-plate for the majority of the season and scoring four overall victories in the year, the Slovenian had to settle for third place in the championship, just 21 points off the lead. It was a disappointing end, but with such a short off-season, he hasn't had long to dwell on the past and will instead use it as motivation to once again attempt to win his fifth world championship title in 2022.
Career Information
| | |
| --- | --- |
| 2007 | EMX65cc European Champion |
| 2009 | EMX85cc European Champion |
| 2012 | First Slovenian EMX125cc European and World Champion. GP debut |
| 2014 | Joined Honda for the MX2 World Championship |
| 2015 | MX2 World Champion |
| 2016 | MXGP World Champion |
| 2017 | MXGP World Championship 5th |
| 2018 | MXGP World Championship 5th |
| 2019 | MXGP World Champion |
| 2020 | MXGP World Champion |
| 2021 | MXGP World Championship 3rd |
| 2022 | MXGP World Champion |
Rider Statistics
| | |
| --- | --- |
| Date of birth | 8th September 1996 |
| Birthplace | Ptuj, Slovenia |
| Racing number | 243 |