Tim Gajser
Since the end of 2013 when 'Tiga 243' was picked up by Honda and Giacomo Gariboldi's eponymous outfit, the resurgence of Gajser has been meteoric. His flamboyant style mixed with his otherworldly ability to scrub has won him fans and fame across the world as well as a string of European and World Championships, becoming Honda's first back-to-back World Champion in the MXGP era at just 19 years old, and then being crowned World MXGP champion once again in 2019 when he broke numerous records on his way to a third world title.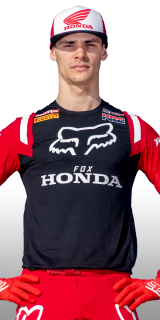 Background
Just twelve days after he turned 19 years of age, Tim Gajser realised a dream when he clinched his first MX2 World Championship crown in 2015. Tiga243 was clearly an enormous talent, working his way through the championship classes leaving a wake of European and World titles, but this MX2 title was special. Just two years after the family were facing the prospect of having to stop, here was Honda's first small-capacity world title in 20 years.
Gajser and Honda continued to blaze a trail, shocking many in the motocross world by announcing that the young Slovenian would immediately move to the MXGP class in 2016. Many doubted, but Honda and Tiga243 believed.
In what was a season of records, and remarkably less than a year on from his MX2 title, Gajser did it again and took the MXGP World Championship crown, in his rookie year and in dominant fashion. Whereas he clinched the MX2 title in the last round of the season, before his 19th year was run Gajser sealed the MXGP crown with three motos remaining in the season, underlying the powerhouse he was in his maiden season aboard the Honda CRF450RW:
– An unrivalled seven Grand Prix victories
– Fifteen moto wins and seventeen fastest laps
– An unprecedented fourteen GP podiums from fifteen races
– Led 242 laps = 41 per cent of the whole season
In taking his back-to-back MXGP title, Gajser became the first big-class World Champion for Honda in 16 years, since Fred Bolley triumphed in 2000. He joins an elite of nine riders who have claimed back-to-back motocross world titles on Honda machinery, and an even more elite group of those who have graduated to a bigger class and still been victorious in consecutive years (those in bold).
Honda's back-to-back champions:
– Andre Malherbe – 1980, 1981 (500cc)
– Dave Thorpe – 1985, 1986 (500cc)
– Eric Geboers – 1987 (250cc), 1988 (500cc)
– Jean Michel Bayle – 1988 (125cc), 1989 (250cc)
– Georges Jobe – 1991, 1992 (500cc)
– Greg Albertyn – 1992 (125cc), 1993 (250cc)
– Stefan Everts – 1996, 1997 (250cc)
– Fred Bolley – 1999, 2000 (250cc)
– Tim Gajser – 2015 (MX2), 2016 (MXGP)
Gajser became Honda's second-youngest big-class World Champion, just behind Greg Albertyn who won the 250cc category in 1993. Although they were both 19, Albertyn was just 61 days younger.
How old were they when they took their first title?
– Graham Noyce – born 1955. 1979 (500cc) = 24 years of age
– Andre Malherbe – b.1956. 1980 (500cc) = 24
– Dave Thorpe – b.1962. 1985 (500cc) = 23
– Georges Jobe – b.1961. 1987 (500cc) = 26
– Eric Geboers – b. 1962. 1987 (250cc) = 25. 1988 (500cc) = 26
– Marcus Hansson – b.1969. 1994 (500cc) = 25
– Jean Michel Bayle – b.1 April 1969. 1988 (125cc) = 19. 1989 (250cc) = 20
– Trampas Parker – b.1967. 1991 (250cc) = 24
– Greg Albertyn – b.13 October 1973. 1992 (125cc) = 18 (23 August, Suzuka). 1993 (250cc) = 19 (8 August, Finland)
– Alessandro Puzar – b.1968. 1995 (125cc) = 27
– Stefan Everts – b.1972. 1996 (250cc) = 24
– Fred Bolley – b.1974. 1999 (250cc) = 25
– Tim Gajser – b.8 September 1996. 2015 (MX2) = 19 (20 September, Glen Helen). 2016 (MXGP) = 19 (3 September, Charlotte)
Career Information
| | |
| --- | --- |
| 2007 | EMX65cc European Champion |
| 2009 | EMX85cc European Champion |
| 2012 | First Slovenian EMX125cc European and World Champion. GP debut |
| 2014 | Joined Honda for the MX2 World Championship |
| 2015 | MX2 World Champion |
| 2016 | MXGP World Champion |
| 2018 | MXGP World Championship 5th |
| 2019 | MXGP World Champion |
Rider Statistics
| | |
| --- | --- |
| Date of birth | 8th September 1996 |
| Birthplace | Ptuj, Slovenia |
| Racing number | 243 |