Welcome to Team HRC – MXGP & MX2
Qualifying
Round 1
MXGP of Qatar
Qatar
Under the glowing spotlights of Losail Circuit, Michele Cervellin and Chihiro Notsuka lined up with their Honda CRF250RWs for the first qualifying race of the season in Qatar. Both riders showed promise early on with good laps in timed practice. With the track getting rougher throughout the day, it was… read more.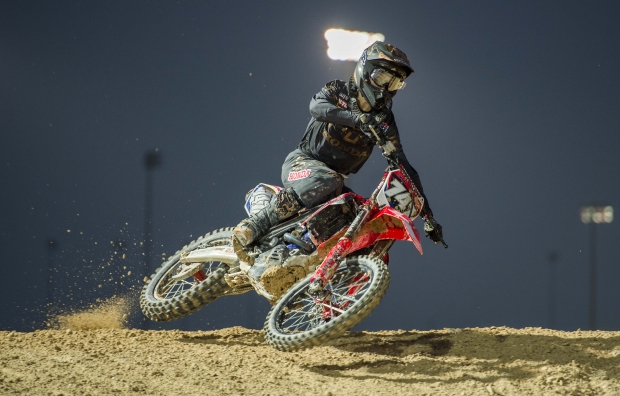 ---
Qualifying
Round 1
MXGP of Qatar
Qatar
Echoing Team HRC's success last year in Qatar, Tim Gajser and Evgeny Bobryshev proved they are here to fight for the title. Reigning world champion Tim Gajser took his first qualifying win of the season on the Honda CRF450RW with team-mate Evgeny Bobryshev fighting his way to fourth. The riders… read more.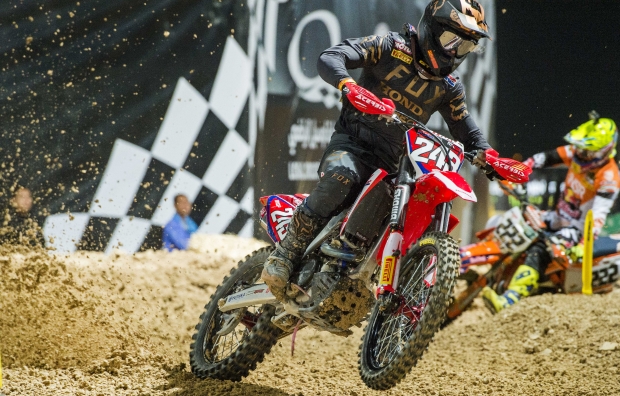 ---
Preview
Round 1
MXGP of Qatar
Qatar
The much-anticipated 2017 MXGP season starts this weekend at Losail, Qatar, and Team HRC are ready to do battle. Reigning World Champion Tim Gajser and team-mate Evgeny Bobryshev are preparing to start in similar fashion to last year's season-opener, where both riders took to the podium in Qatar and Gajser… read more.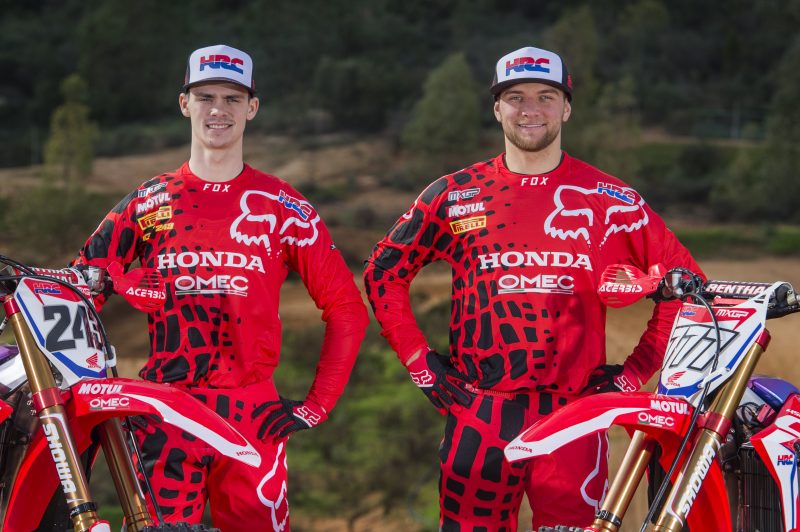 ---
Preview
Round 1
MXGP of Qatar
Qatar
This week sees the MX2 season begin in Losail Qatar where Team HRC MX2 will begin their world championship assault for the first time. Chihiro Notsuka and Michele Cervellin will line up with their CRF250RWs on the new metal start grid in a larger MX2 class for 2017. Losail will be under floodlights in the… read more.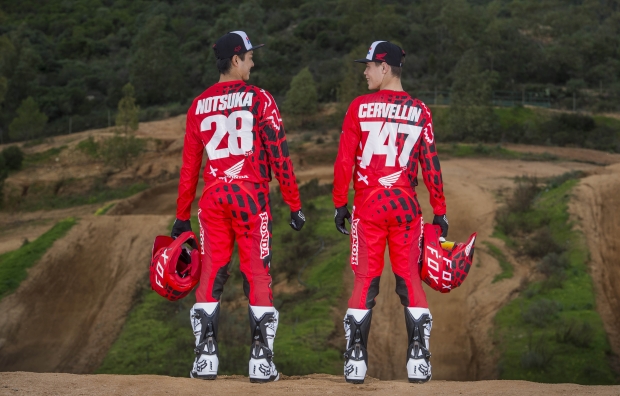 ---
Team HRCs Michele Cervellin took the first win of the season for HRC in the MX2 class at the final round of the International D'Italia Motocross in Ottobiano. Michele has had a strong start to his first season with HRC taking his CRF250RW to the podium in all three of… read more.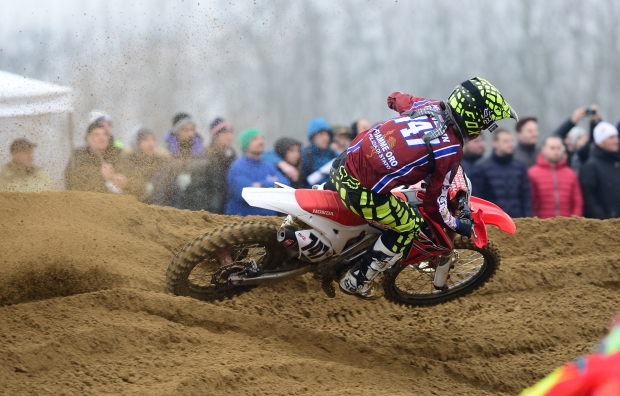 ---
News
Round 0
Pre-season testing 2017
Sardinia
Following last week's photo shoot, HRC brings you behind-the-scenes footage from the official factory launch and pre-season test in Sardinia where HRC introduced the new MXGP and MX2 team for 2017. MXGP Tim Gajser, Honda CRF450RW, #243 Evgeny Bobryshev, Honda CRF450RW, #777 MX2 Michele Cervellin, Honda CRF250RW, #747 Chihiro Notsuka,… read more.
---
News
Round 0
Pre-season testing 2017
Sardinia
Team HRC put the final touches to their preparation for the 2017 FIM Motocross World Championship assault with the first official pre-season test of 2017 in Sardinia. Having secured a clean sweep of titles in 2016, the reigning World Champions are set for an all-out title defence in what is set… read more.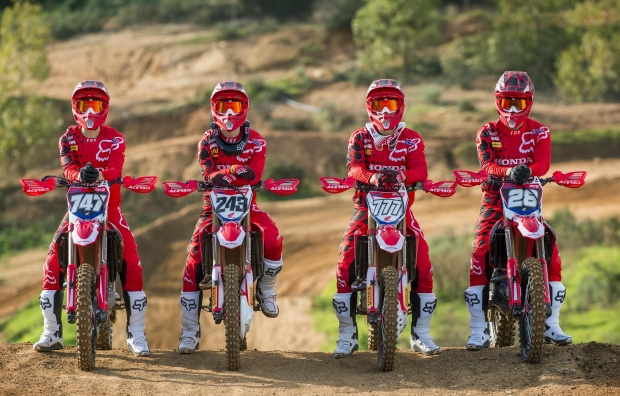 ---
During the traditional motorsport announcement press conference held last night at EICMA in Milan, Italy, Team HRC presented its factory line-up for the 2017 FIM Motocross World Championship, MXGP, and an evolution of team structure. Team HRC will field two works entries in the MXGP category, where reigning World Champion… read more.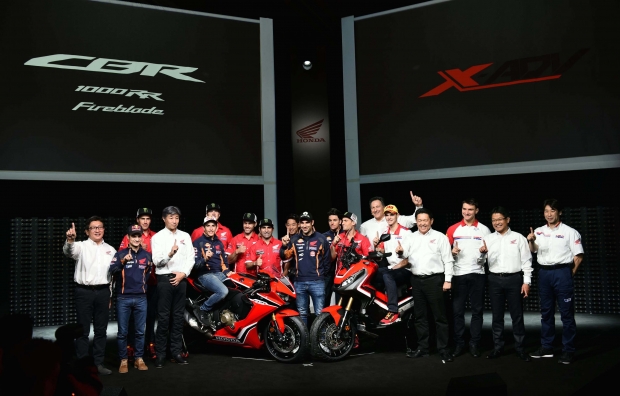 ---
The FIM and YouthStream have announced a revised 2017 MXGP calendar, which is listed below and under the Calendar tab of this site: Date FMNR Venue Country 25 February* QMMF Losail Qatar 05 March IMI Pangkal Pinang Indonesia 19 March CAMOD Neuquen Argentina 02 April FMM Leon Mexico 16… read more.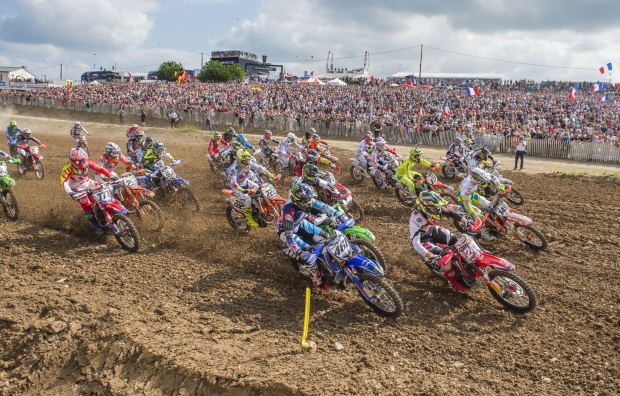 ---
Race
SMX Riders' Cup
Germany
The Team HRC pairing of Evgeny Bobryshev and Gautier Paulin, alongside Honda Gariboldi's Tim Gajser, took Team Honda to second overall in this evening's Supermotocross Riders' and Manufacturers' Cup at the Veltins Arena in Germany. The debut SMX event saw three races of furious action on the specially built track… read more.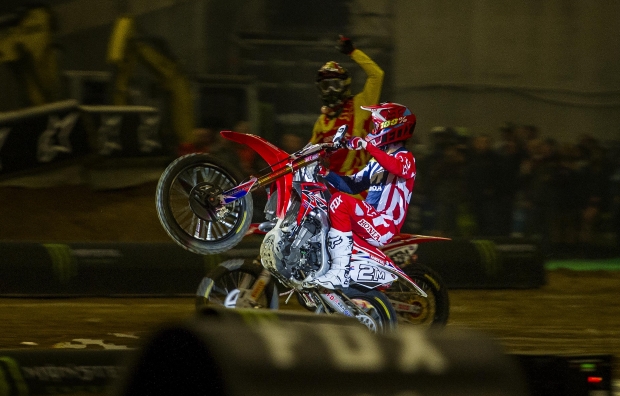 ---